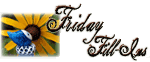 Hosted by Janet
http://fridayfillins.blogspot.com/
_________________________________________________
1. Follow the

path of least resistance.
2.

My clothes, extra shoes and my pillow

is something I always take with me on vacation.
3. To achieve your goals, you must

first make long term and short term goals and outline steps to achieve those goals

.
4.

I like to sleep late on the weekends and that

is something I'd like you to know about me.
5. I have a

tendency to procrastinate

.
6.

A rubber raft

floats.
7. And as for the weekend, tonight I'm looking forward to

playing World of Warcraft

, tomorrow my plans include

sleeping late and being lazy

and Sunday, I want to

do the laundry and fix a nice dinner

!