The following photos were taken by my niece, Amy.
Yes, that is me holding the puppy.
I cropped the photos so you all can't see me :)
Introducing
LADY ITSY BITSY BABY
She is 5 weeks old in this picture.
Born on around Halloween.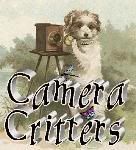 Visit other Camera Critters listed HERE!