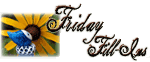 Hosted by Janet
http://fridayfillins.blogspot.com/
_________________________________________________
1. The last band I saw live was

REO Speedwagon in 1997

.
2. What I look forward to most on Thanksgiving is

being with my family and eating until I am so full I cannot move

.
3. My Christmas/holiday shopping is

going to be severely impacted by the economy this year

.
4. Thoughts of

warm hands and feet

fill my head.
5. I wish I could wear

my pajamas to work! I would be much more comfortable

.
6. Bagpipes

are wonderful to listen to. My favorite song on bagpipes is Amazing Grace

.
7. And as for the weekend, tonight I'm looking forward to

setting up my new desktop computer

, tomorrow my plans include

shopping for my son (he needs new jeans)

and Sunday, I want to

play World of Warcraft and level up my toons (I have a lot of catching up to do)

!