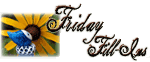 Hosted by Janet
http://fridayfillins.blogspot.com/
_________________________________________________
1. Please feel free to

kiss my ass if you don't like what I made for dinner

.
2. When I

am in a house that uses propane for heating or cooking

I can't help sniffing it occasionally.
3. My favorite thing to cook is

dessert!


4.

Chocolate

is something I can't get enough of.
5. That's the thing I love most about

dogs...their ability to love you unconditionally

.
6.

Stupid behavior

always makes me think to myself, what the heck?
7. And as for the weekend, tonight I'm looking forward to

taking my brother to the doctor

, tomorrow my plans include

sleeping in late and possibly seeing some snow for the first time this winter

and Sunday, I want to

play more of Wrath of the Lich King

!