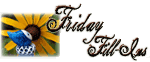 Hosted by Janet
http://fridayfillins.blogspot.com/
_________________________________________________
1. My blueprint for success includes

job security and no stress in the work place

.
2.

A Hershey's chocolate bar

was the last candy I ate.
3. The best facial moisturizer I've ever used is

Dove

.
4.

A great cup of tea

can be good therapy.
5. I'd like to tell you about

my most handsome grandson Jeremiah! He is going to be 9 months old this month

.
6.

My ability to be kind to everyone

is my strongest characteristic.
7. And as for the weekend, tonight I'm looking forward to

going to a WoW raid

, tomorrow my plans include

celebrating my son's 16th birthday

and Sunday, I want to

take a nice long nap

!