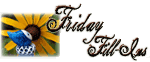 Hosted by Janet
http://fridayfillins.blogspot.com/
_________________________________________________
1. My favorite food seasoning is

salt! (Even though the doctor has told me to cut back on salt)


2.

Barking dogs greeting me at the door when I come home

is music to my ears.
3. Lucky is

a good book by Jackie Collins

.
4.

Faithfulness, trust and honesty

is something I take very seriously.
5. Many people

need to take a chill pill

.
6.

Groceries and a new movie

was the last thing I bought at the store.
7. And as for the weekend, tonight I'm looking forward to

watching scary movies

, tomorrow my plans include

playing World of Warcraft, sleeping and being lazy

and Sunday, I want to

get things ready for the trip to my brother's house

!