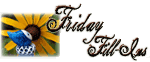 Hosted by Janet
http://fridayfillins.blogspot.com/
_________________________________________________
1. One of the best concerts/plays/movies I ever saw that I really didn't think I'd like was

"Pitch Black"

.
2.

CHicken n' dumplings, mashed potatoes, fried apples and sweet iced tea

is a meal I recently ordered that was delicious!
3. It's time for

me to get some work done but I am being lazy today

.
4.

An ice cold Diet Dr. Pepper

is quite refreshing.
5. If I never hear the word

friggin'

again, it'll be too soon.
6. To one side of the curving road was a

beautiful horse running in the fields

, and on the other was a

small child riding her bike up and down a long driveway

.
7. And as for the weekend, tonight I'm looking forward to

seeing my daughter and grandson

, tomorrow my plans include

getting some shopping done and doing laundry

and Sunday, I want to

play World of Warcraft (the expansion is due out in a month!!!!