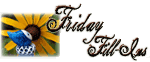 Hosted by Janet
http://fridayfillins.blogspot.com/
_________________________________________________
1. Right now, I'm feeling

tired, sad and a little stressed

.
2.

Home sleeping

is where I want to be.
3. How does one

tell when the other is lying

?
4.

My children and work

keeps me on track.
5. Please don't

bother me! I am trying to not work! hehe

.
6.

My dogs meeting me at the door when I come home, wagging their little stubby tails,

fills me with joy.
7. And as for the weekend, tonight I'm looking forward to

cooking dinner and watching a movie

, tomorrow my plans include

going to town for cleaning supplies

and Sunday, I want to

clean the bathrooms, do laundry and play World of Warcraft

!